Read Time:
6 Minute, 44 Second
Small Indie Games 2021
Well this year is coming to a end. There is some small indie game of 2021, I have tried this year. When COVID -19 happens I found some amazing indie games and developers. Due to my faulty pc specs using Intei!3 core  processor, I can run some games but have to upgrade later. Hopefully, I will get a gaming pc with Inteli5 graphics card or AMD and maybe Nivida. But I will look into some option down the road but expensive. That being said, 2021 is a average year for gaming and met some wonderful people on social media.  Along with playing some amazing IPS title , you guys to check out. In this indie game spotlight, I will have to tone it down to 5 games. Last time I did 5-7 titles where I have covered in this blog.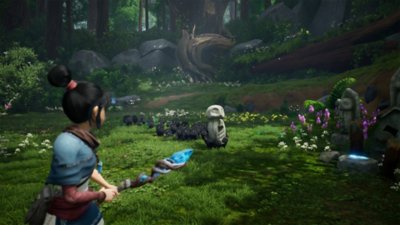 This time I will have to take it easy. At first I was thinking about retiring covering indies because say it with me "faulty PC and graphic card". But supporting small developers and little people is my specialty. I love went indie developers put their heart and soul on their piece. Video games is a form of art that capture players eye and curiosity. Well I have rambled too much about indie games this year. Again there is some indies that The Game Awards 2021 showcase. I am excited for them and have to stop purchasing triple AAA video games. Let's right to the countdown to small last indie game 2021.
Girls Overboard – AGL Studio
Girls Overboard is a dating sim indie game that you are a social media influencer on a island called "Kawaii Island". Players can interact with female heroines with buying gifts and outfits. Don't worry, your mermaid friend will help you along the way. The game is very easy to play and reminds me of a certain adult web browser game (which I can't name).  Players can gather materials with nets and use bait (just like fishing). Craft materials to make gifts to gave for that special girl. Once you give that girl a gift and outfit, their level goes up. Girls Overboard is early access and demo is available on Steam. Will you conquer Kawaii island and find love? Or will you get washed ashore for trying?
Kings Gauntlet: Chess Revolution – Tall Grass Games
Kings Gauntlet Chess Revolution is a shoot em up chess indie game. The goal of Kings Gauntlet is about moving your chess pieces and shooting at the same time. It plays like a normal chess game but with shooting elements.  Players can summon chess pieces and use special abilities in battle. There is local and online multiplayer 1vs1 chess battle. I want to thank the developer for posting this on Tik Tok and was on my For You Page. Kings Gauntlet is very easy to pick up and playing chess in a new way. The game is available on Steam with a demo.
Moonlight In Garland – Winters Group Estate
Moonlight in Garland is a simulation indie game where you're living your life in a city called Garland. You have move into the city and learn whole culture of Garland. Players can rent a apartment, find jobs and meet new people in Garland. Moonlight in Garland is a peaceful game with beautiful pixel art. There is another game I have covered that plays similar to this.  You can create your character, buy furniture for your house and gardening. Run errand to boost your friendship with the people you meet. Earn money and enjoy festivity of Garland. Moonlight in Garland demo is available on Itch.io and Steam. How will you send your life in Garland?
Peace, Death! 2 – AZAMATIKA
Peace, Death 2  is a Midcore turn-based logic core indie game. You play as a grim reaper employed at agency in Hell. During work you can buy coffee and other things before his actual job. You goals is to send people to heaven or hell based on their personalities.  There are three things that people represents Hell, Heaven and Purgatory. Even following persona is a psychopath with items guns and knifes. Send them to hell, if person has teddy bears or something positive it's heaven. Purgatory is basely neutral but will be challenge for players. The game is very easy to play for beginners and keeps you guesting. Peace Death 2 is available on Stream and welcome to The Reaper Union. Who is going to hell or heaven, only you can decide on that.
Athenian Rhapsody – Nico Papalia
Athenian Rhapsody is a comedic role playing indie game. Players control a unnamed boy in a strange world who meets two monster that befriend him. The game plays similar to Toby Fox Undertale and uses the same system. You can have a 16 party members at your disposal. Solve puzzles and making jokes never been some fun indeed. Athenian Rhapsody is a very fun title and very easy to get into. If you are a fun of Undertale then players will burst in laughter with this. Each character have their abilities and skills in battle. Athenian Rhapsody demo is available on Steam to try out. How will you befriend monster and have a fun filed  adventure?
Cooking Companions: Appetizer Edition – Deer Dream Studios
Cooking Companions is a visual novel indie game revolves around hide and seek. You are living in a cabin with filed with people. As a cook, your job is to prepare a meal for them. Magical creature called "Chompettes" that wants to play hide and seek with you. The Chompettes are consist of Cabbage, Orion, Bread and many others. Note: This game has some creepy moments and photosensitive epilepsy that trigger seizures. It's not suitable for younger audience, you have been warmed. Just like any other visual novel games, there is multiple endings and routes. Cooking Companions Appetizer Edition is available now on Steam and free to play. Will you catch all The Chompettes?
Closing
That's all for now as least, I have a fun time trying these games out. It will be a while for showcasing new indie games. Hopefully 2022 will be better then this year. Next time I covered indie games will be sometime in 2022. Lets see what next year will bring to the table. I might get a new pc by then, who knows will that happen. Make sure you guys support these  indie developers. Lets make their dreams come truth and get notice from bigger publisher like Sony or Nintendo. If you want more updates on the blog, follow me on social media or discord. Sign up for my mailing list if you like. Thank you for reading my blogpost and have a bless day. Tune in for more blogpost from me in the future.