Read Time:
4 Minute, 40 Second
Deltarune and Undertale
Both Deltarune and Undertale are indie games developed by Toby Fox. These games take inspiration from Earthbound and many other games. One of the developer Temmie Chang created her own game called Escaped Chasm which is also free to play. If you want to check it out, go right ahead if you're a fan of Undertale. I never got into a Deltarune until a viewer from Twitch while I was playing Marvel's Avengers. This viewer recommended me to play and It didn't disappoint at all. I was amaze by the game and story behind it. This was a huge step ahead of Undertale. Deltarune has a similar premise like Undertale but went three main characters Kris, Susie and Ralsei.  Last Undertale game has a unnamed protagonist is trapped into another world. You have to find your way out because inhabitants doesn't like humans.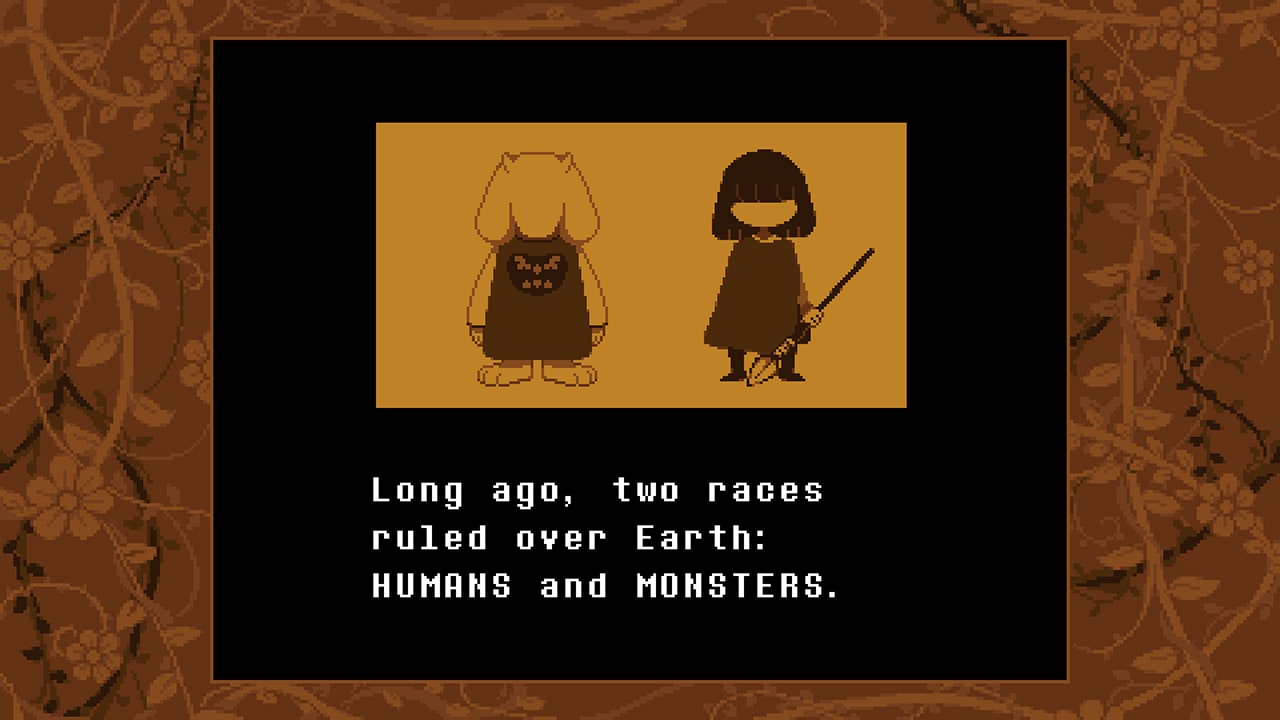 You will meet characters like Sans. Papyrus and Toriel on your journey. You don't have to be a Pacifist or genocide in your adventure. It's not like your typical rpg went you defeat enemies and level up. That's not the case in these games. There is a mechanic called "ACT" where you can do special action to any enemies.   Players can talk and befriend enemies, once that happens you can "Spare" them. Sparing enemies don't give you alot of EXP but money. Depending on your playstyle and choices in the game. Deltatune expands ACT, which your party members can preform as well. One of your party members can throw you towards a enemy. Heals other party members and complement enemies during gameplay. After battle, you can solve puzzles, buy items and equipment to your character.
Cont
In terms of the story, there is alot of slaptick in this. They also poke fun of rpg cliche as well. In chapter 2, you can recruit enemies and store items.  Chapter 2 is one step forward then the last chapter. In Chapter 1, Susie, Kris and Ralsei stops Dark Fountain from purging the world. Our three heroes meet Lancer who is the main antagonist son. Lancer becomes a foil to our main heroes and later is reformed. Susie and Lancer built a friendship in the course of the first chapter. Even betraying Kris and Ralsei in the process. After getting captured, Susie and Lancer had a fight but felt bad. Realizing their error of their ways, out heroes confront The King. After defeating The King, Susie and Kris comes back into their world. Afterwards, Kris and Susie are friends but early they wasn't at all. I guessing Susie had a change of heart after all.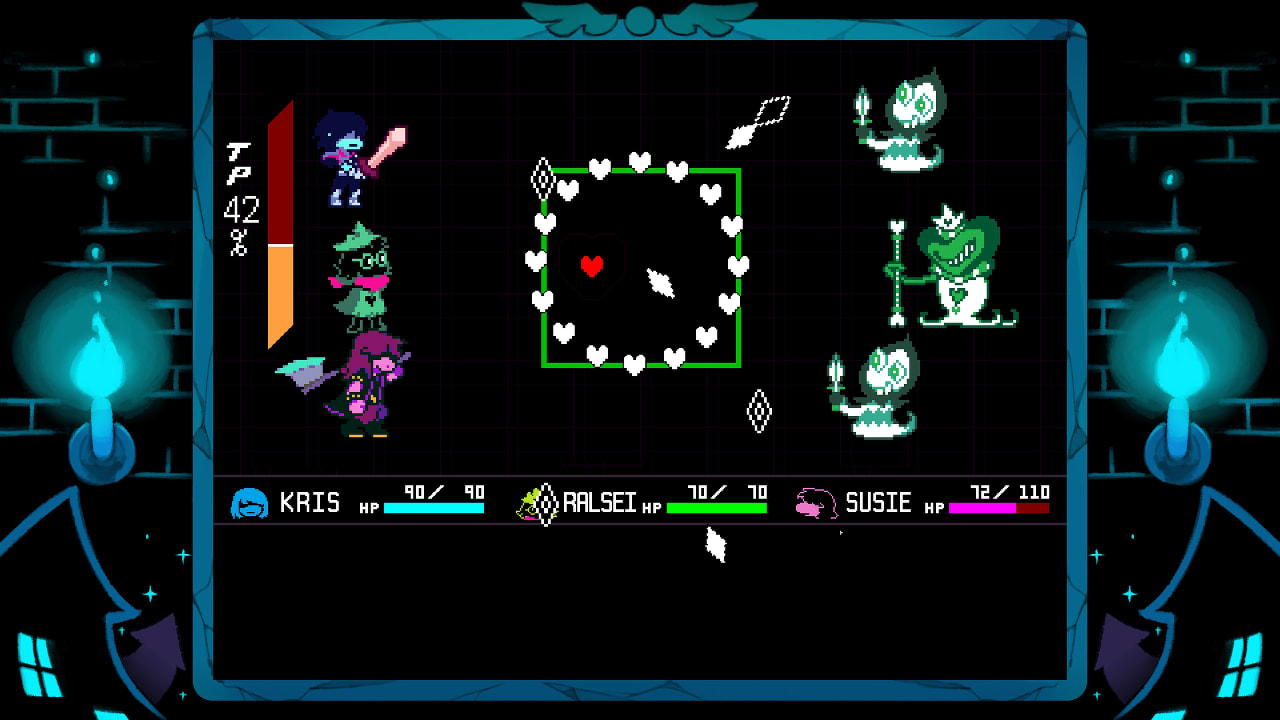 During ending of Chapter 1, something strange happens to Kris and onward to Chapter 2. Kris and Susie has a school project but goes back into  the world. Now, another Dark Fountain  appears and a new villain named Queen. Queen rules the Cyber world and captures Noelle for her amusement. Kris, Raisel and Susie meets up with Queen along with Blerdly. Blerdly is a self proclaimed genius of the school and forms alliance with her. Our heroes free Noelle and goes to the Queen's castle to confront her. Blerdly is mind controlled by Queen and out heroes breaks him free. Blerdly admits that Noelle is the smartest one due to the spelling bee. He helps out heroes defeat Queen and again return to the real world. Susie helps Toriel make pie and Kris acting strangely again.
Closing
For example climbing out of the bathroom and slashing tires. Once everyone falls asleep, Kris wakes up and uses a knife to cut open a rift. That's how Chapter Two ends but what will happen next. Chapter Two has some great moments like Punch Out boss fight and backstories of the characters. Don't forgot about the soundtrack which is amazing in my opinion. I love the final boss Chapter 2 music reminds me of Mega Man X and F-Zero combine. Susie is one of my favorite characters in Deltarune. She is rough around the edges but hard to express herself. There is alot of moments in Deltarune but it will be a long post. Anyways, Deltarune should be game of the year because of the writing and retro gaming style gameplay. Toby Fox and team did amazing job with this game.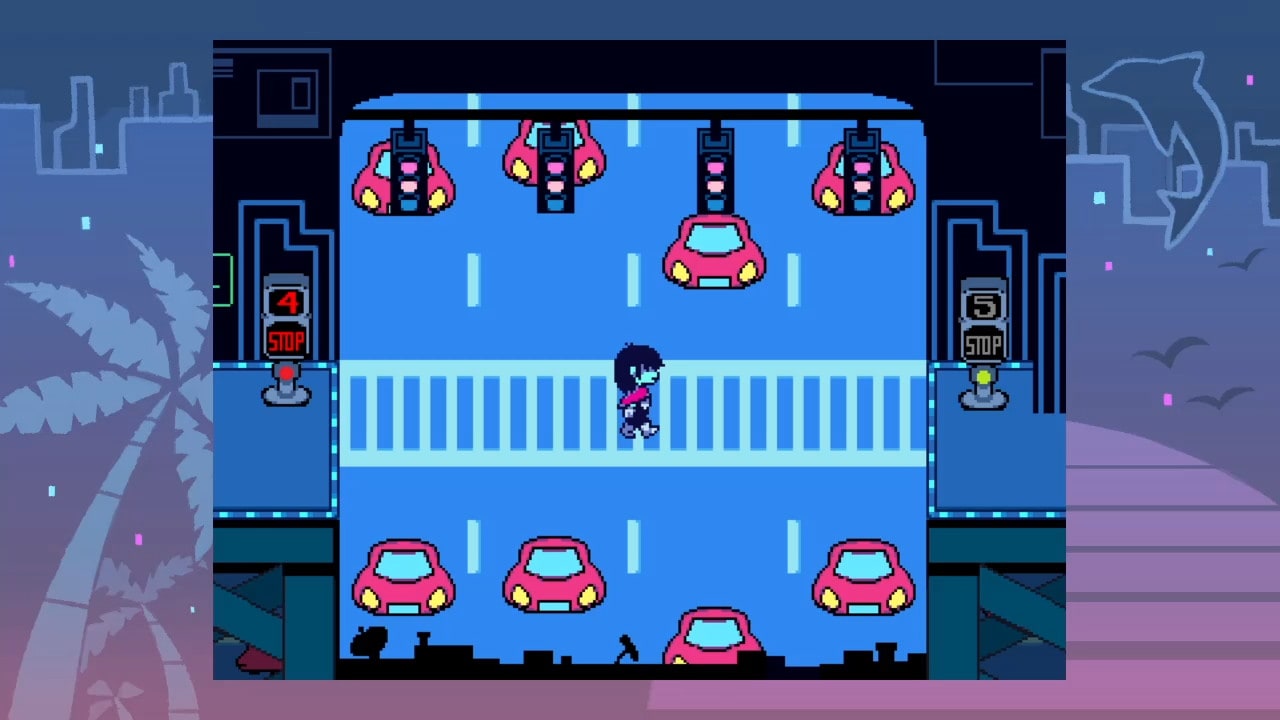 I can't wait to play all  7 Chapters ( I have played 1+2 already). If you want to get Deltarune, download it for free on Nintendo Switch, PlayStation 4/5 and PC. There is no Xbox version sorry about that but hopefully in the near future it will. Undertale is available on Nintendo Switch, PlayStation 4/5, Xbox One/XS and Steam. I get the feeling its not over yet but just getting started. Let me know what you think in the comments below. Make sure to share this blogpost with any Undertale and Deltarune fan out there. If you want updates on the blog or website, follow me on social media or discord. Thank you talking the time for reading my blogpost. Tune into the next blogpost and have a bless or safe day.