Read Time:
9 Minute, 42 Second
Spring 2021 Indies Games
During this pandemic, there was some Spring 2021 indie games were released. Although Spring is over and still some indies has been released. I had to try and get a hands- on experience with them. In this blogposts I had to wait until couple of indie games to come out. I know it's late and end of Spring but don't want to make this post too short. So I apologize in advance about the lateness of this indie game blogpost. That being said, I will be giving a non spoiler review of these indies. I am sure you guys love them and want to support these IPs. Well E3 2021 might have some indies I will try out. They might have an indie game sale on PSN, Steam, Xbox Live and Nintendo Eshop.
For those want don't want to pay for indie games. Feel free to continue reading this blog. You might want to check your specs for downloading indie games on PC. Video game consoles you don't have to worry to much about specs and RAM. Indie developers released demos for players to try out. Some don't or have a closed alpha of the game. They understand that a lot of people don't have funds to buy indie games. Some independent developers send keys for users but don't ask for them. As content creator you have to show indie developers support by posting gameplay and retweeting. Well I don't go too far but here is some indie games for casual players like myself.
Galaxium – Wulum
Galaxium is a classic arcade shooter inspired by Galaga. The plot is Union Nation discover a new element called "GAIUM". GAIUM is used for high speed space travels and many possibles. You have a spacecraft called "GALA" to fight alien race named Kroh. In Galaxium, players must fight hordes of Kroh empire. The ship is armed with special weapons to defeat yourself against Kroh. The game features classic arcade music and 3D 80s style shooter. You gain power up like shield, bombs and many other possibilities. Wulm create a classic 80s shooter that retro gamers will enjoy. Galaxium is available now on Steam. Will you face off against Kroh empire and save humanity?
Tailspin! – Team Bugulon
Tailspin! Is a Dug Dig -like puzzle platformer developed by Bugulon Team. The game has no plat but you play as a drill creature to solve puzzles and find treasure. Tailspin! Features 20+ levels with pixel art drawn by Sam, Oroshibu, THX and SnakeBlock. Soundtrack is done by Mista Jub which gives you classic 90s MSDos feel. The game is very easy to play for beginners. Players will have to drill their way to exit and collecting keys. You can drill enemies and have two health points. Collect diamonds and find your way to exit. Tailspin! (not to be confuse with Disney Afternoon show) is available now on Itch.io.
MerFight: Curse of the Arctic Prince – Mattrified Games
Merfight: Curse of the Arctic Prince is a fighting game developed by Mattrified Games. The game features 12 playable based on sea life creatures. Merfight features arcade mode, multiplayer (local and online) along with training mode to practice combos. Mattrified Games also developed Battle High 2 check that out if you must. Merfight is still in alpha phase right now and still in development. The game is available to try out and make sure to give feedback as well. If you love Mermaids then try out Merfight: Curse of the Arctic Prince.
Turn left at Saturn – Siunne Studios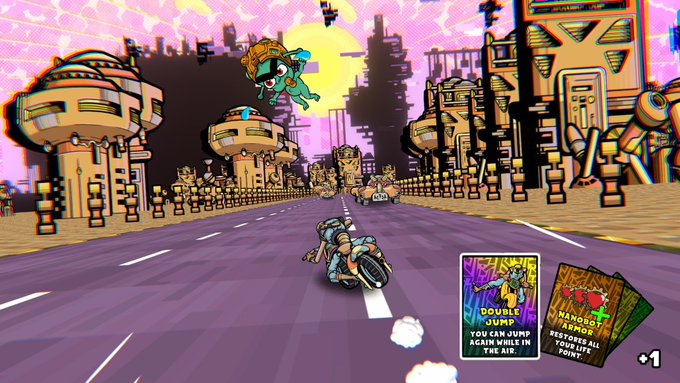 Turn Left at Saturn is a Road Rash indie game developed by Siunne Studios. The concept of the game is drifting, jumping and exiting portals. There is a tutorial in the beginning of the game that will guide you. Turn Left at Saturn is similar to Crazy Taxi, where you earn points and complete objectives before time limit. Players can collect containers to give you boost of speed. Along with slowing down time to dire situations. While jumping on cars, catching up with aliens and drifting can reward players. Join Siunne Studios Discord to try the game and be apart of community. How will you survive Saturn and make it to the portal?
Rail Route – Bitrich.Info
Rail Route is a tycoon management train indie game developed by Bitrich Info. The game is about building you rail road service and manage it any way you can. Rail Route is very complex game for beginners but immediate players will enjoy this one. Players can built tracks, signal lights and routes for trains to go. If you do a great job, players will earn money and rewards to expanded their services. In you want to create your own map, there is a editor to do so. Rail Route demo is available now to try out for yourself. Remember don't like these trains crash into each other and keep rail service flowing nicely.
My Garden – Finn Pickart
My Garden is a gardening simulation indie game developed by Finn Pickart. The game is about planting flowers and others on the day to day basics. You can say that Harvest Moon is the inspiration for this. My Garden is very easy to play but there is not tutorial. Players must look at Itch.io page to learn the ropes. All you have to do is plant and rest until it grows. My Garden is available to play on your web browser or downloading it. Will you plant and create a beautiful garden?
The visitors say motivational things every day (available tomorrow with Update 1.1) 💭✨

Have you already played the original? 🌷🌱https://t.co/tMbzQl0YJt

Do you like this idea? 🍀#IndieGameDev #indiegame #indiedev #gamedev #devlog #games #gamejam #spring2djam #godot #itchio pic.twitter.com/8oU80TTK1G

— Finn (@finn378) May 6, 2021
Bright Blades – SamRowettGames
Bright Blades is a tactical role playing game developed by SamRowettGames.. The game is very inspired by Fire Emblem and Final Fantasy Tactics. Players take control of Freya, a LGBT princess defending her kingdom against Oberon. Freya meets new allies and can be control during battle. You can pet Freya's companion to raise his stats. Rescuing Cleric to health allies and recruiting characters to fight for the cause. Gameplay is very similar to Fire Emblem, you have option to move, item attack during phases. If you can make a move wait and that's all. Bright Blades demo is available now to try out. Will you save your kingdom for evil forces?
SpiderHeck – Neverjam
Spiderheck is a spider battle simulation developed by Neverjam. There is not much to this game other than shooting enemies. The controls in this game can be a little tricky with mouse and keyboard. Use your weapons to lash on this surfaces and walls. Pick up weapons or throwing them at enemies, it doesnt matter what you do. There is local and online multiplayer available in Spiderheck. There are level with 80s neon environments that makes the game stand out. Spiderheck demo is available now on Itch.io.
Humanless – Alex  and Rodrigo Braga
Hunanless is a shooter platformer developed by Alex and Rodrigo Braga. Players take control of a skilled combatant fighting hordes of demons and monster. Players fight their way to 20 level within three episodes. There is need to worry about ammunition it's unlimited which is very new. Another game which have pixel art violence which is Broforce. Which Humanless reminds me of and level design as well. You will have to come across puzzles to progress through next level. Humanless demo is available now to try out. Will you survive the horde?
GO HEROES – Happyland Games
Go Heroes is a tile based combat indie developed by Happyland Games. Players take control of Titan Prometheus to unravel his past. You can solve puzzles and use past events to navigate through level. Open up chest to equip armor, shield and weapon to defend yourself. Watch out for snakes, crabs and many other enemies. Players will learn about tales of Mythology and Prometheus past. The narration will guide you through land of Greece. Make sure to step wisely and don't fall into traps. Go Heroes does reminds me Ghost N Ghouls in talking damage. Make sure to support this game and uncover the secrets of Mythology.
Sunshine Days – Netspeak Games
Sunshine Days is a simulation which is inspired by Animal Crossing. This game is for Discord only no download for PC. You play as a travel looking for a new place to day. Next thing, you come across a ad about Sunshine Days. Sunshine Days offers free housing and meet the mayor of the town. Players can garden, get furniture and clothes. Along with making new friends and connecting with townspeople. Create your own avatar and go have fun. Sunshine Days is free and another alternative for Animal Crossing: New Horizons. Will you be the best person to enjoy Sunshine Days?
Kaze and the Wild Masks – PixelHive
Kaze and the Wild Masks is a 2D platformer developed by PixelHive. The plot is about Kaze who wants to save her friend Hugo from a curse. Kaze must fight her way through mutant vegetables. Players must collect letters (Donkey Kong Country), crystals and many more. There is bonus levels and boss fights at the end of level section. Kaze collects mask to navigate through level such as water and flying. The game is very pretty looking and takes inspiration from other 90s platformers. Pixel art steals the game and reminds me of Owlboy (another excellent title). Kaze and the Wild Masks is available now on PC, Nintendo Switch, Xbox and PlayStation along with Stadia. Will Kaze stop the curse and save her friend?
Closing
Alright that's pretty much covers all the indies out there. I want to wish you all Happy Father's Day. Just wanted to say that first but I care. Make sure you support these indie developers. I love Kaze and the Wild Mask which is my favorite out of all. Let me know what you think of this blogpost. What  games will you try and buy? Let me know in the comments or replay on social media if you like. Support this website whatever way you can. Thanks for reading my post and talking the time to do so. Have a bless and safe day, tune in for the next post.