Read Time:
2 Minute, 24 Second
What is Super Mario Cereal?
Super Mario cereal is a special promotion for Super Mario Odyssey video game from Kellogg's. This is the first time Nintendo collab with Kellogg's cereal company. There is a Pokemon cereal in the 90s went it was mainstream. I went to Target to buy this and was stoked about it. Super Mario Cereal features powerup marshmallows from the Mario series. The rest is stars and reminds me of Lucky Charms. In the back, there is a special amiibo scan to unlock new content in Odyssey. I don't have a Nintendo Switch but someone on YouTube will try it. Super Mario Odyssey is about Mario exploring world with a new friend Cappy. Cappy can control many foes and objects it touches. Mario have access to different outfits in-game. He journey through Mushroom Kingdom to the real world.
There is a returning character named Pauline.Pauline was Mario had to rescue from Donkey Kong in the early days. She sings the main theme in Super Mario Odyssey. In the back of the box, there is five questions about Mario Myth. It's design as a warp pipe maze with questions about Mario first name to his sidekick Luigi. Kellogg's have a Open for Breakfast survey on how to improve your morning. Customers could collect points and earn rewards. For folks who is looking for nutrition. There is a label on the right side of the box.
What is my thoughts on the cereal?
The serving size is 1 cup, have vitamin A, C, and D to jump start your morning. 120 calories, 0 saturated fat and 170 sodium. 10g sugar and 0 cholesterol in the cereal. You can read the rest of the Nutrition Facts on the box. The cereal is not bad but taste very plain. When I brought this at Target, I knew to review this product. Folks can buy it on Walmart and other food retail stores. Will I buy this cereal again? Probably so but I want to try the Pokemon cereal again. Hopefully it holds up after 1990s.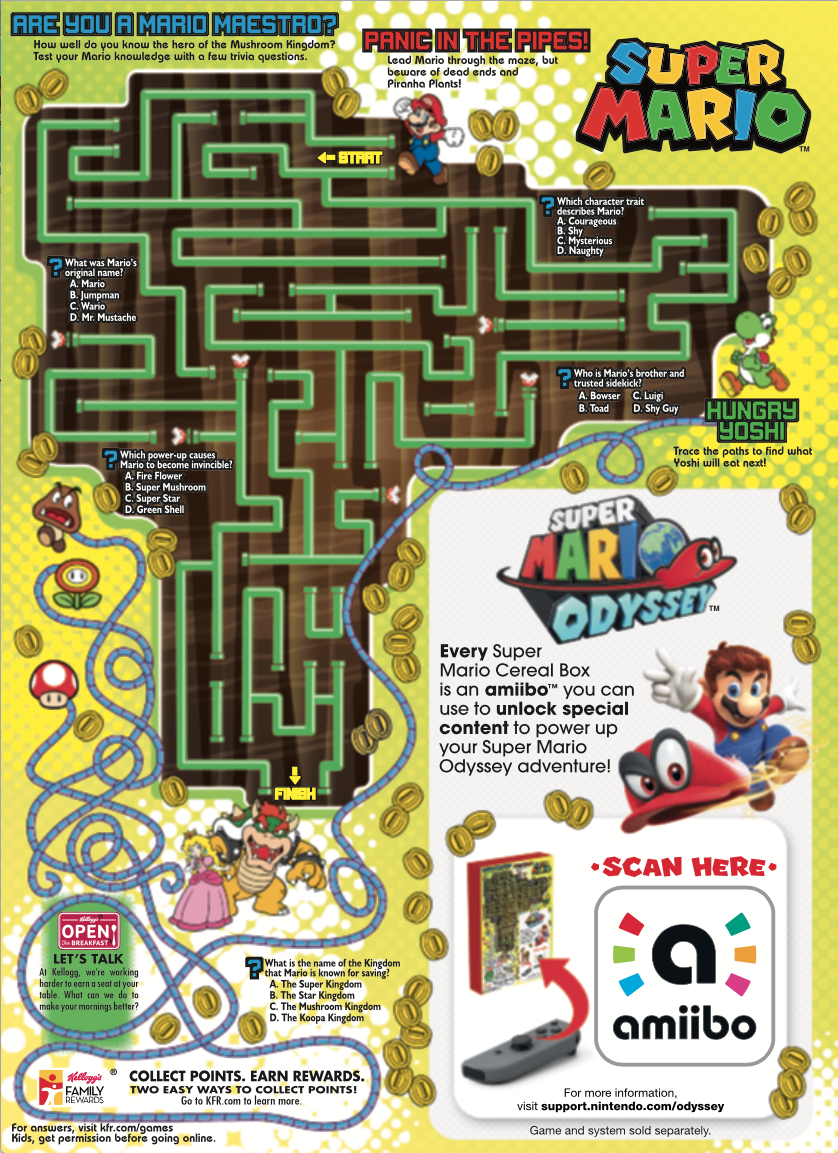 Children and adults will enjoy this cereal. Kellogg's brought you different types of products. You guys heard of  Eggo waffles, Rice Krispies, Pop Tart and Fruit Loots. I still enjoy them until this day. If you love Mario and want to try this cereal. Go right ahead and stuff your food. This is the first food review I ever did. Probably not the last you will see one.  Super Mario Cereal is available on Target, Amazon, Giant and Walmart. Odyssey is available now on Nintendo Switch on Amazon.