What is Pac Man Ghost Light?
Pac Man Ghost Light is based on Namco Bandai video game franchise. This product is based on Pac Man enemy "The Ghosts". Pac Man is a old school iconic video game where you have to eat grey ball to win. However, Ghosts will stop you from completing the level. In order to defeat ghosts. There is a special ball to eat and send them right back into the middle. Let's talk about the product in general. Pac man Ghost Light is easy to plug-in to the computer and wall. It It comes with two components, a micro usb cable and ghost light. There are different modes to choose from. Party mode which change colors with different types of music. Original mode which doesn't react to music but changes. There is another term color phasing mode for original.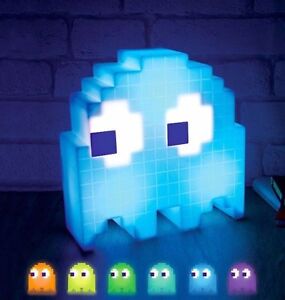 In order the light to react to music. Users have to turn the sensitivity dial for quiet and loud music. The product is developed by Paladone and there is another Pac Man Light out there. Overall, you will need a Ipad changer to plug into the wall. I got this from my older sister in Christmas last Tuesday. Loving the design and shape of the ghost. It has a retro pixel art feel and very light. Pac Man host Light is for all ages 8+. I hope to have find with this product in the near future.
Continue reading Pac Man Ghost Light and Magic Eagle Havit Game Series Review