Overwatch animated short cinematic trailers
Overwatch animated shorts explores characters lore and backstory. Our heroes have reason to fight and stand what is right. The storyline is about "Omnic Crisis" which spark a war between humans and machine. United Nation formed a task force called Overwatch. The founding members are Gabriel Reys (Reaper_ and Jack Morrison (Soldier 76). Due to disagreements on both sides. Gabriel formed a counter and convert ops called Blackwatch. Overwatch wanted peace but was deemed misguided and corrupted operations. After that event, Overwatch disbanded and never heard again. Tank hero Winston wanted to form Overwatch again despite Petra Act. The introduction in the game, Winston give a speech about major event. Winston tells the gamer and people "Are You With Us?" meaning we will fight together. Mei animated short have Winston's speech.
During development phase, Jeff Chamberlain explains that "Overwatch doesn't have a linear storyline and wanted to outside the game". He wanted to create a lot of stories quickly and developed cinematic trailer. These animated short takes six and eight months to complete. The storyboarding and rendering process need to be planned first. One of the map Gibraltar was incorporated in Recall short. I will be talking eight animated shorts. There are others but I wanted to focus on cinematic ones. First, Winston's Recall animated short. Winston is a genetically-engineered scientist and recalls his days in Overwatch. A terrorist organization named Talon attacks Winston. Reaper was among one of the members. He was unsuccessful and ran off.
We need the team back
Winston makes the speech that's since in game opening. Recall is what started and introduction of Overwatch. He was a baby gorilla and Horizon Lunar Colony later on playable map. His animated short was average and give Winston development. Winston wants to bring the team back together. We will see his messages get across. Alive is the second short about Widowmaker and Tracer. Widowmaker is on a rooftop trying to assassinate Tekhartha Mondatta. Mondatta wants to bring peace to human and omnics. Afterwards, Tracer attempted to foil Widowmaker's plan and gives her a chase. Tracer fails to stop assassination of Mondatta and Widowmaker leaves. The mortal of this short, you can't protect everyone.
We don't see much backstory of Widowmaker and Tracer. Alive is action-packed and love Tracer flashy speed. Widowmaker is one cold-hearted assassin with no emotion. Dragons animated short is about Hanzo and Genji. Genji denies Hanzo's wishes to get involved with his late father's criminal activity. Genji was nearly killed and saved by Mercy exchange for a cyborg body. Hanzo and Genji were brothers of the Shimada Clan. Hanzo goes to Hanamura and face Genji in battle. Genji spares Hanzo's life and reveals his identity. We get to explore Hanzo and Genji backstory in this short. Genji wanted to go his own path. Hanzo wants the same but realize something around the corner. Dragons is a tale of two brothers.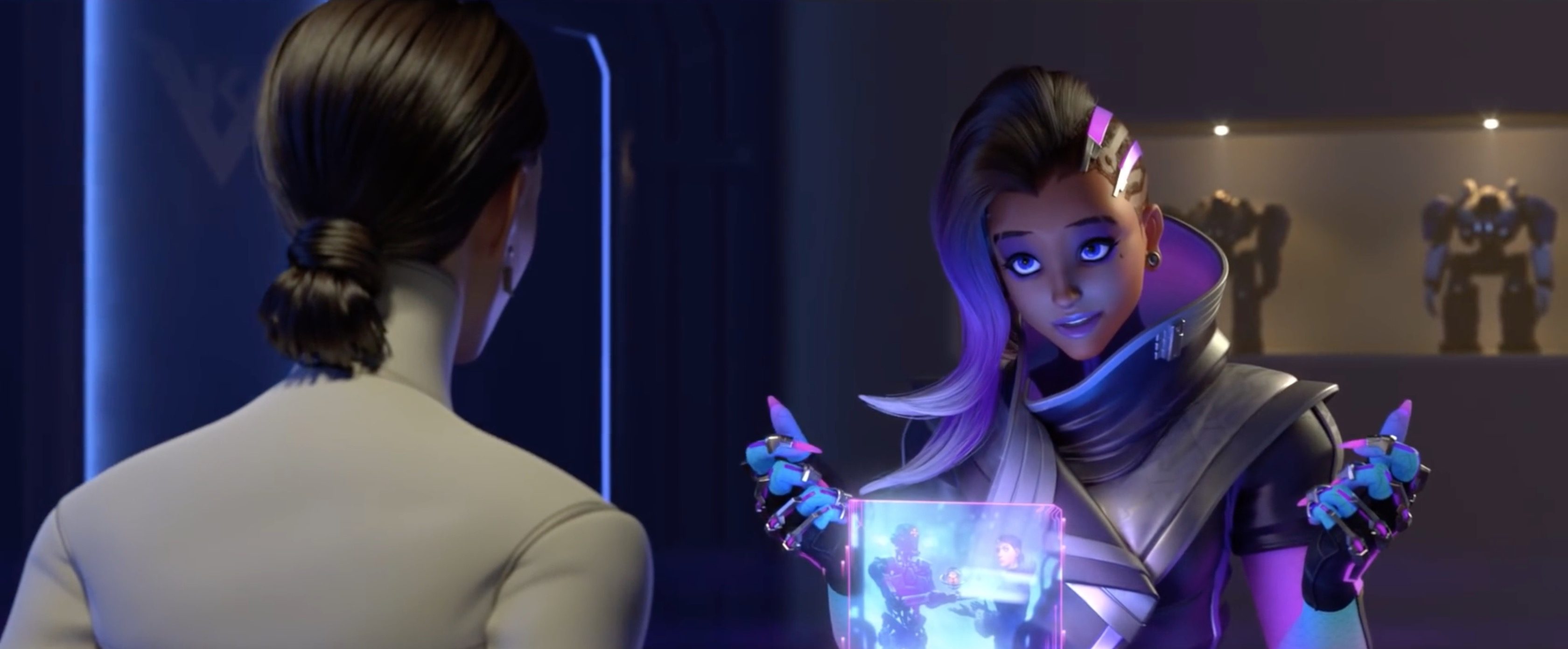 Anti Omnics
Hero is about Soldier 76 (Jack Morrison), protecting a young girl from Los Muertos. Everyone in Dorado wants take Overwatch down. Jack wants to protect the innocents and willing bring order. Hero is what Soldier 76 is portraying in this short. The Last Bastion short is about Bastion. He is the last unit following Omnic Crisis. Bastion only reason is to find but doesn't know beauty of nature. He have flashbacks on the Omnic Crisis battle. The Last Bastion digs deep into machine having feeling. Normally, machine are program listen to their owners. Bastion have a mind of his own. Infiltration starts Sombra who is helping Reaper and Widowmaker to assassinate Katya Volskaya. Sombra talks to Volskaya not assassinate her gives her ultimatum. Sombra failed to assassinate Volskaya and Zarya appeared.
Infiltration short was deep and we learn about Sombra 's character. She can hack into any machines at her will. Rise and Shine animated is centered around Mei. Mei works at Overwatch's Antarctic eco watchpoint. She records her discovery and during a storm. Mei and her colleagues decided to go into cyrosleep. Nine years Mei finds out her colleagues are dead because malfunction. She and her robot assistant Snowball trying to get a signal. Mei receives a message and it's Winston recall to Overwatch. Afterwards Mei sets out to rebuild Overwatch with Winston. Rise and Shine animated is dark and Mei's character is established. When her colleague die she became a helpless girl. Mei figured things out and stay strong,
A hero in you
Honor and Glory animated short is Reinhardt story. Reinhardt was a member of Crusaders to fight Omnics. Young Reinhardt was impulsive and reckless in his prime.  Reinhardt and Balderich was a formable combo was not enough to defeat Omnics. Older Reinhardt was talking to Brigitte about returning to fight. Reinhardt animated short was amazing and he loves to fight. He was a man of honor and willing to join Overwatch. Lastly, DVA (one of my mains) Shooting Star animated short. She is apart of Korean MEKA defense team with other pro gamers. DVA fights off Omnic and her MEKA suit overloaded then ejected. Afterwards DVA is wounded and nurse back to health by team's mechanics Daehyun.
What are my thoughts on Overwatch animated shorts?
DVA's MEKA is a powerhouse and take out most of the Omnics. She is one of the best female character in Overwatch. Those animated shorts I wanted to focus on but there is more in the near future. Doomfist short reminds me of anime tv series. My thoughts on animated shorts are amazing and well animated. It captures these characters in a dynamic setting. The animation is more pixar level and should be a film. I don't want it to be live action but animated movie. The team at blizzard do a great job with these. Hoping to see more Overwatch Animated Shorts in the near future. Overwatch is available to play and buy on Xbox One, PC and PlayStation 4 on Amazon.