Read Time:
2 Minute, 52 Second
What is Gamers!
Gamers! Is a light novel written by Sekina Aoi and Illustrated by Saboten. The plot of the anime is Keita Amano is loner boy who enjoys video games with a passionate. Amano is approach by the most beautiful student in the school Karen Tendo. Tendo is also a gamer and is a part of the games club. Tendo invites Amano to the games club due to both of them having a similar interest and love at first sight. Anamo declined the offer which lead Tendo stalking and acting awkward around him. The animation by Pine Jam which is a new company and directed by Manabu Okamoto. The series pay homage the mainstream games like Super Smash Bros, Persona 4 Arena Ultimax, Guilty Gear Xrd Rev 2, Mario Kart 8 and Tales of Phantasia.
During the opening you will see familiar games from those franchises. The anime teach us that you don't have to be good at the game or play them competitively. It also tackles real life and romance issues such as Aguri for example she don't play video games and falls in love with Tasuku Uehara. Aguri finding out that Tasuku is into other girls. Amano and Chiaki debating about video games and Tasuku struggles with being a geek in middle school. Don't forgot being alone and don't socialize much in playing video games.
How does the series tackles problems?
I would like to put my personal experience in this review. Myself I don't have a lot of friends and don't socialize with anyone due to past history with people looking down on me. I am a casual play and don't play to win. I play video games to enjoy them because I love to have fun. Glad that online gaming exist because I don't have much people playing with me locally. Everyone has a preference genre in gaming which as the members of the Games Club. Such as Eiichi is a puzzle player, Gakuto is a first-person shooter player and Niina Oiso is a fighting game player. I don't have a certain video game genre preference but I play mostly variety. That's just me as a gamer but if you want to see me play video games check out my YouTube gaming channel and an anime one as well.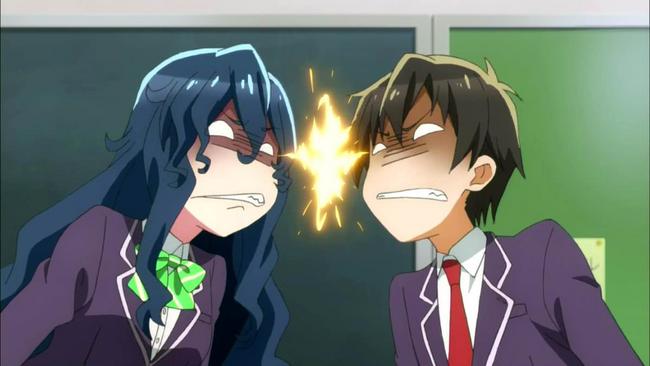 My thoughts on the anime is gamer should watch this and take on problems that we games have in life. I would highly recommended this anime to video game fans and who love romance. The five main characters Amano, Tasuku, Aguri, Tendo and Chiaki interactions range from weird and awkward. Keita is more of a casual gamer like me and I like how he defend his passion of gaming when confronting Tasuku in the series. As gamers we are different from most people and some people think video games are a waste of time. That's why we have platforms like YouTube, Hitbox, Twitch and more to share the love of gaming. If you want to watch Gamers! It's still ongoing and I would give it a watch.